Meterage & Yardage to Fill
Aero Tatting Shuttle Bobbins
by Megan Mills
megan@kiwi.gen.nz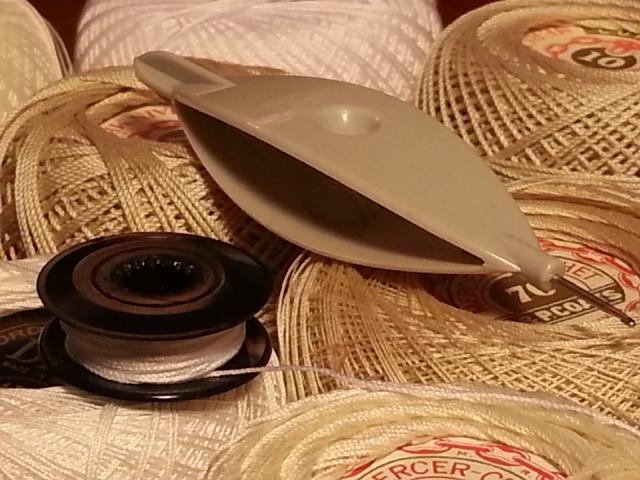 Hello fellow crafty people. :)

If you tat with an Aero style shuttle you might wonder what it means, exactly, when directions say to "pull off enough thread to fill your second shuttle".

I gathered up all the different threads I have in my stash and hand-wound the bobbins full, but not beyond the edge of the bobbin. Then I unrolled it and measured it and kept a record. I hope the little table that results is useful for you, too.

When I hand-wind I carefully roll the thread onto the bobbin to try to avoid messing up the twist in the thread (I put the bobbin on a pen because I find that easier to "twirl" than the shuttle itself).

Enjoy!

Megan

p.s. I don't have a machine handy and I've never even seen size 90 thread so if you can send me information for any of the gaps in the table I'll fill them in.
Meterage/Yardage to fill an Aero tatting shuttle bobbin with different sized threads
Thread
Hand-wound
Machine-wound
Size
Metres
Yards
Metres
Yards
10
6.5
7.1
-
-
15
8.5
9.3
-
-
20
10.5
11.5
-
-
30
12.0
13.1
-
-
40
13.0
14.3
-
-
50
17.6
19.3
-
-
60
19.5
21.3
-
-
70
22.5
24.6
-
-
80
28.1
30.7
-
-
90
-
-
-
-
100
33.0
36.1
-
-
Home Page and more Patterns
Last modified: 15 May 2013