Estonian Starflower all-over lace with balanced edges
A free knitting pattern by Megan Mills
megan@kiwi.gen.nz




Hello fellow crafty people. :)

I love Estonian lace patterns and this all-over "Starflower" pattern really caught my eye. I've had some Shetland cobweb weight yarn sitting in my stash for years and years. This stitch pattern inspired me to get it out, spend a few hours waxing and polishing my neglected wooden swift and spend the better part of an afternoon balling up the wool. I've never used Shetland cobweb weight before. It was a joy to knit and block (the before and after pictures bear almost no resemblance to each other) and my "just a swatch" has turned out so well I'm now wondering what else I can do with it. An edging perhaps? The "blocking wires" you see in the picture are out of my set of Portuguese knitting needles and I've decided I love blocking with wires. It was so fast and easy I'll never block lace without them again if I can avoid it so have promptly ordered a set of "real" blocking wires!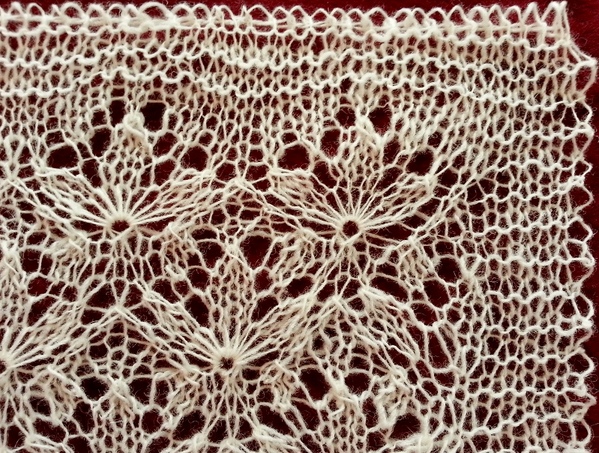 Corner detail


I couldn't find just the stitch instructions for this lovely stitch anywhere (except for a chart in Russian that I couldn't make work, try as I might - my inability to read Russian being somewhat of a disadvantage, I confess) and so an adventure begun... I found a 12-row pattern that is similar but it includes pattern rows on both sides. The stitch pattern I wanted to make had all plain rows on the wrong side and, as near as I can tell, is a 16-row pattern. There is a similar pattern in my Haapsalu Shawl book (Water Lily, page 165) but it isn't the all-over Starflower stitch pattern I was looking for as it has the flowers set singly in plain diamonds. I scoured my Knitted Lace of Estonia book too but it wasn't in there. No doubt the stitch pattern is out there, somewhere, in English but I couldn't find it.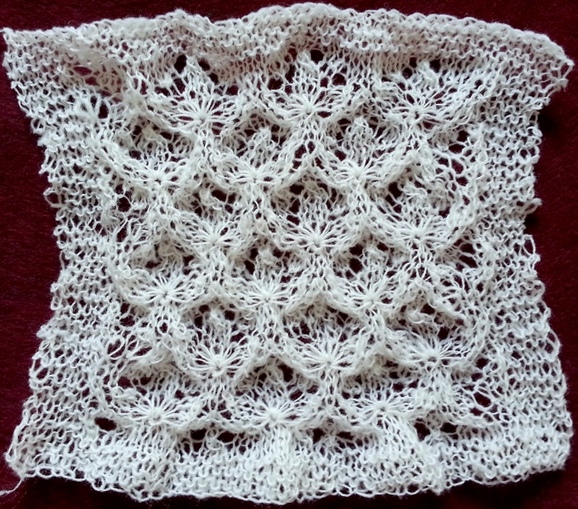 The piece fresh off the needles


It is a make-and-lose, half-drop pattern so I happily spent Easter figuring out the stitch, with balanced edges, for those of us who like to design for ourselves. It took me two days to work it out and another couple to make the charts so that you can see where the stitches belong in relationship to the overall pattern, write up the wordy instructions and "proof" it all by working the swatch pictured. The swatch is three pattern repeats across and three pattern repeats tall - one worked to the expanded chart, one worked to the condensed chart and one worked to the wordy instructions. I found all three useful in their own ways so have included the whole lot for you, including the stitch multiples for every row should you wish to begin or end on a different row or round (and so you can check your stitch count as you work). I've also included the charts and wordy instructions for just the pattern repeat, without the balanced edges, for when you want to work circularly. This is also handy for flat knitting and panels when, over several repeats, you don't want to keep "finding the asterisk to repeat from" in the wordy instructions.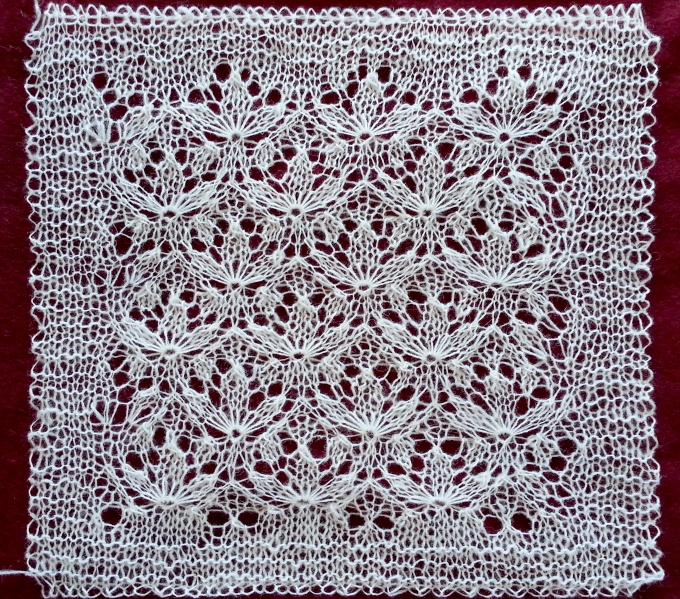 The completed square. Move your mouse over the image to see the square on blocking wires.


I've tried to get the stitch pattern as close to the original as I can, but no doubt there will be some differences. However, they should only be minor. The charts have colour-coding but if you have a black and white printer just refer to the PDFs on screen and use a highlighter to mark the coloured squares in the grid.

I hope you have as much fun playing with this stitch as I have... Megan

The pattern is available here.
And charts are here.




Home Page and more Patterns
© Megan Mills, 24th April 2014