Free Pattern for Scalloped,
Curved Crochet Edging

by Megan Mills
megan@kiwi.gen.nz




Hello fellow crafty people. :)

This doily on Mary Corbet's web site has 32 scallops on the edging.

Mary mentioned on her site that she really likes the crocheted edging but she doesn't crochet. I think it is beautiful, and there are not that many patterns around for curved edgings.

I couldn't find a pattern for this one anywhere so, with some close-up pictures Mary sent me, I've worked it out for myself. If you'd like to re-create the original piece, this should get you well on the way.

If you want to make a shorter or longer edging for another purpose you will need an initial multiple of 63 base stitches. Each set of 63 base stitches produces a pair of scallops. (Each completed scallop needs 31.5 base stitches due to the curved nature of the edging).

If you wish to adapt the pattern and make it narrower by starting from Round 4 you will need to work it out so that you have 12 meshes for each scallop. 12 meshes will need 36 base stitches.

I've just worked a sample four scallops long, but I've done it a few times now to perfect the pattern and this is as close as I can get it to the original on Mary's site. There are pictures of both the front and the back so that you can see both sides, just like you'd want to if you had it in your hands. (You know you would, we all want to look at the back...)

The gentle curve of this edging means it can also be used for a collar, cuffs or a flounce.

Experiment and enjoy!

The pattern is available here.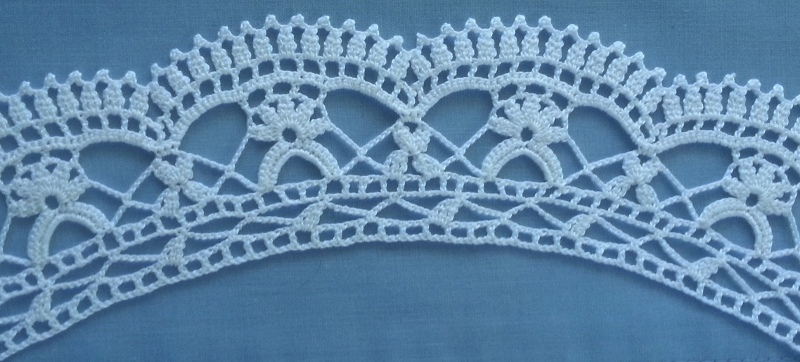 Back view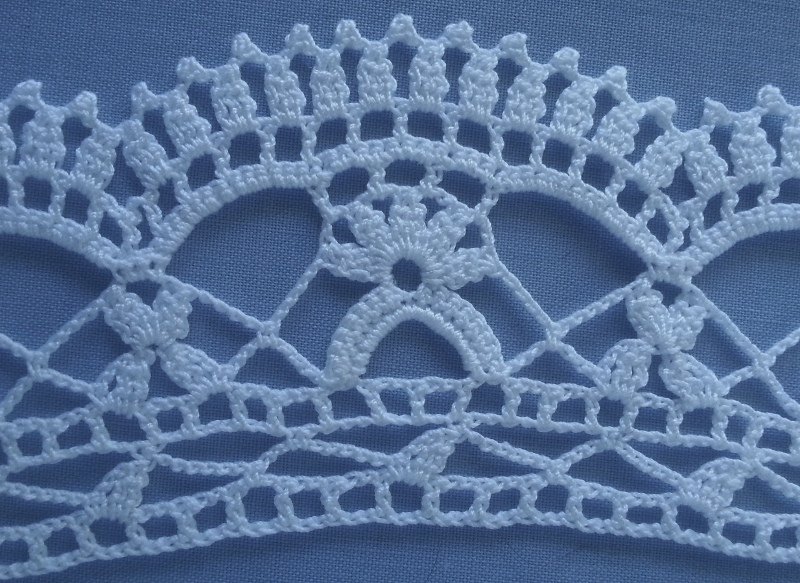 Back detail